EXPRESSION OF INTEREST – Advisory Committee & Supporters
The Australian and New Zealand Falls Prevention Society is looking for some help to produce the best possible implementation plan for our falls prevention strategy and to support us in our advocacy.
E.g.,
attend a round table event to finalise the implementation plan
share our materials with your networks (via e.g., social media, newsletters)
advocate alongside us in support of the strategy
stay informed of the next steps of the strategy
If you'd like to show your support for our call for urgent and coordinated action on falls prevention, we invite you to nominate how you'd like to help. 
For those who would like to contribute their thoughts already, we are looking at the influences on falls among adults as a dynamic system. We have drafted a systems map to understand the complexity of factors influencing falls, find potential gaps in coverage or duplication of efforts to prevent falls, and identify priorities for intervention and for evaluation. Our wonderful colleague Professor Bill Bellew has created a brief video and survey. If you have 5 to 10 minutes, we would very much appreciate your thoughts.
ANZFPS Report: "The rising cost of falls; why investing in prevention can't wait"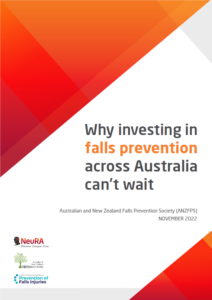 Download the report here
Australia & New-Zealand Falls Prevention Society: Who are we?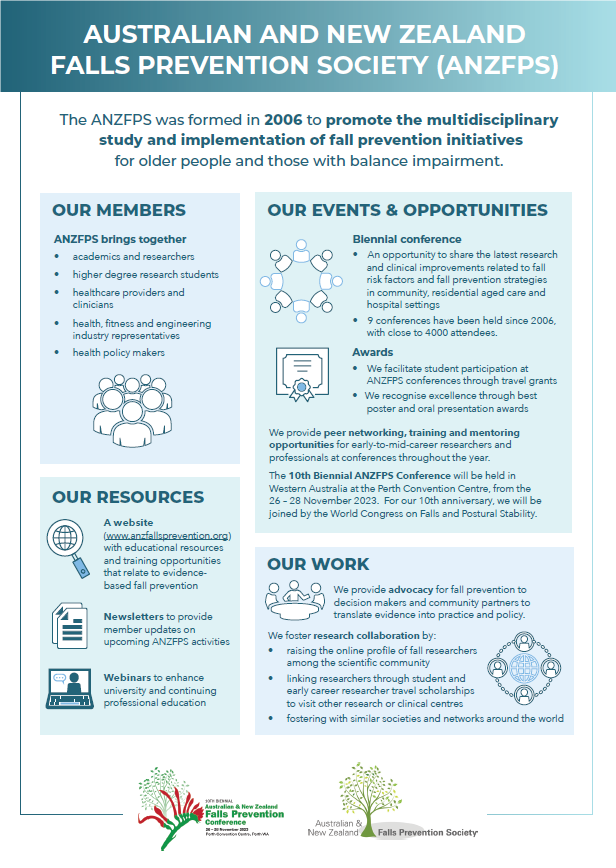 Welcome to the website of the Australian and New Zealand Falls Prevention Society (ANZFPS). The ANZFPS was formed in 2006 to promote the multidisciplinary study and implementation of falls prevention in older people. The society achieves this purpose by:
holding regular meetings to present and discuss the latest research and clinical findings relating to the falls risk factors and falls prevention strategies;

facilitating student participation at ANZFPS meetings through travel grants, low registration fees and presentation awards, and;

providing members with email notifications about upcoming ANZFPS meetings and other occasional email updates. You can read our newsletters here. 
The ANZFPS acknowledges the traditional owners of the unceded lands of Australia upon which we live and work and pays respect to Elders past, present and future.
The ANZFPS acknowledges tangata and mana whenua across Aotearoa New Zealand, tēnā koutou katoa.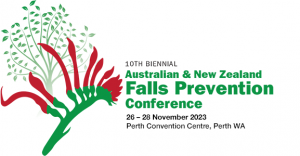 10th Biennial ANZFPS Conference 26-28 November 2023
ANZFPS Executive
| | |
| --- | --- |
| PRESIDENT | Profressor Kim Delbaere, Neuroscience Research Australia |
| VICE PRESIDENT | Dr Daina Sturnieks, Neuroscience Research Australia |
| TREASURER | Professor Stephen Lord, Neuroscience Research Australia |
| SECRETARY | Dr Anna Hatton, The University of Queensland |
| COMMUNICATIONS MANAGER | Dr Jasmine Menant, Neuroscience Research Australia |
| STUDENT MEMBER | Ms Charlotte McLennan, The University of Sydney |
| 2021 PAST CONFERENCE HOST | Professor Ngaire Kerse, The University of Auckland and Joyce Cook Chair in Ageing Well |
| 2022 UPCOMING CONFERENCE HOST | Professor Anne-Marie Hill, Curtin University |
| GENERAL MEMBER - NEW ZEALAND | Professor Debra Waters, University of Otago |
| GENERAL MEMBER - AUSTRALIA | Dr Morag Taylor, Neuroscience Research Australia |
| GENERAL MEMBER - AUSTRALIA | Associate Professor Lynette Mackenzie, The University of Sydney |
| GENERAL MEMBER AUSTRALIA | Professor Anne Tiedemann, The University of Sydney |
| GENERAL MEMBER - AUSTRALIA | Dr Melanie Farlie, Monash University |
| ADMINISTRATION ASSISTANT | Jessica Turner, Neuroscience Research Australia |
ANZFPS Sub-Committees
| Sub-Committee | Led by |
| --- | --- |
| Communications | Daina Sturnieks |
| Education | Jasmine Menant |
| Early Career Researcher | Morag Taylor, Melanie Farlie, Daniel Treacy |
| Advocacy & Research Collaboration | Cathie Sherrington |
| Falls Best Practice Guidelines Update | Jasmine Menant |
To contact us you can email anzfallsprevention@neura.edu.au

Click here to download the ANZFPS-Bylaws-2019